Summer Camp Fun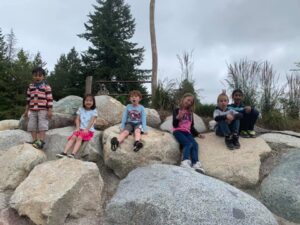 Our School Age Camps are offered to children ages 5 to 12 during Spring and Summer breaks. Superlearners Childcareland has so much to offer that we know your children will love our tried and true, well-loved School Age Camps. There are weekly School Age camps that focus on a different theme. We will play in the great outdoors, go on amazing adventures, have fun exploring, socializing, and of course build lasting memories.
Each School Age Camps session is for children ages 5 to 12 and are one week long (excluding statutory holidays and weekends). These full day School Age Camps run from 7am to 6pm (full day). The daily School Camps adventures are fun for all ages and include lots of exciting field trips. We provide safe transportation as well.
Many of the things we have done in the past include: Wet and Wild Cultas Lake slides, Science World, Life at the Lake(White Pine Lake picnic) Rock Stars (Karaoke), and Swimming . Within these themes we enjoy fun activities such as face painting, arts and crafts, parachute fun, kite flying, nature walks, hot dog/marshmallow roasts, bubble fun, blueberry picking, bouncy castle, water fun day, and the list goes on and on.
Our School Age Camps are very popular and fill up quickly. We hope your child will enjoy their time with us as much as we will enjoy making memories with them.